Robert Creeley 1926–2005
[»»] Robert Adamson: Robert Creeley, 1926–2005 with Poem: 'Letter to Robert Creeley' (2001)
Feature: Jack Beeching
[»»] Jack Beeching: Five poems
[»»] Bill Luckin and Barry Wood: Poet as Expatriate: Jack Beeching, 1922–2001
[»»] David Kennedy: Alum Raptures — in memoriam Jack Beeching 1922–2001
[»»] Barry Wood and Bill Luckin: Catch the Music as it Fades: The Poetry of Jack Beeching
(Note: This article is in Jacket 29)
Robert Duncan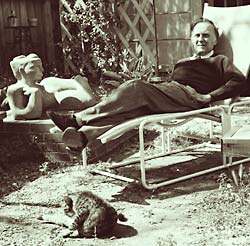 [»»] Lisa Jarnot's biography: The Young Robert Duncan — a 20-page excerpt
[»»] Robert Duncan in conversation with John Tranter, San Francisco, 1985
[»»] Robert Duncan: A metaphysical quotient —
Michael Davidson in conversation with John Tranter, recorded in 1989, with a postscript, 2005
[»»] Robert Adamson: Eurydice Reads 'Roots and Branches'
[»»] Stephen Collis: A Duncan Etude: Dante and Responsibility
[»»] Dale Smith: Here I Go — 1999–2002
[»»] Peter Gizzi: Often I am Allowed These Messages
[»»] Gabriel Gudding: Poem About My Strabismus, for Robert Duncan
[»»] Jeff Hamilton: Wrath Moves In the Music: Robert Duncan, Laura Riding, Craft and Force in Cold War Poetics (30 pages)
[»»] John Latta: Two poems: To Robert Duncan, A Notebook of First Permission
[»»] Maureen N. McLane: years/ catches for robert duncan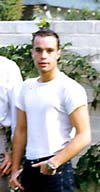 Landis Everson
[»»] Landis Everson: Six poems from 1960
[»»] Landis Everson: Five New Poems
[»»] Landis Everson, interviewed by Kevin Killian in 2004
[»»] Kevin Killian: Fulcrum number three,
with commentary on Landis Everson
[»»] Thirteen photographs of Landis Everson
About Tom Raworth
[»»] Introduction

[»»] Robert Adamson: Letter to Tom Raworth

[»»] Robert Adamson: Wow, Those Symbolists

[»»] Bruce Andrews: Dang Me

[»»] Charles Bernstein: This Poem Intentionally Left Blank

[»»] Nicole Brossard: Prose poem

[»»] Clint Burnham: Three sonnets

[»»] Richard Caddel: Little Winter Suite: For Tom Raworth

[»»] Graca Capinha - a comet (after Tom Raworth)

[»»] Andrew Carrigan: Firmament

[»»] Miles Champion: poem ('stuffed chair...')

[»»] Cris Cheek: poem

 

[»»] Claudio Cometta: A Tom, albero raro

[»»] William Corbett: On West Broadway

[»»] Michael Davidson: Vacant Weather

[»»] Ken Edwards: from Glory Boxes

[»»] William R. Fuller: A Sailor's Life

[»»] Anselm Hollo: from Guests Of Space

[»»] Árni Ibsen: In a Different Language Zone

[»»] Trevor Joyce: Dark Senses Parallel Streets

[»»] Robert Kelly: For Raworth, A translation from Middle High Cat

[»»] Esther Roth: A Simple Melody for Tom (graphic)

[»»] Keith Tuma: ''till mute attention Struck my listning Ear'

 
Translate O'Hara? This / Norwegian Would...
[»»] Frank O'Hara: 'Den dagen Lady døde' — vocals and Norwegian translation of 'The Day Lady Died' by Jan Erik Vold: text, MP3 and RealAudio tracks of the 1986 reading by Jan Erik Vold of 'Den dagen Lady døde', with Red Mitchell's jazz accompaniment
Articles and Reviews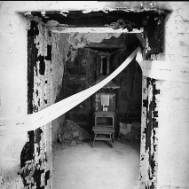 [»»] Caroline Bergvall: Fiona Templeton's Cells of Release
For six weeks, in 1995, the poet and performer Fiona Templeton locked herself up in the lugubrious corridors of the abandoned Eastern Penitentiary of Philadelphia to write. Why would she do this? Why would one do this? But this she did, "over six weeks", writing by hand with an indelible marker, no return no edit, "I wrote without the possibility of erasure", on one long string of paper, "where a spool of paper ran out, I sewed on the next one", guiding it through one prison cell per day, and for as long as it would take to work through the thirty-eight cells that make up this one corridor of the dreadful panopticon.
[»»] Ken Bolton: The Poetry of John Forbes: An Introduction
[»»] Robert Bond: No Traveller Returns, by Vahni Capildeo
[»»] Mark DuCharme: Extremes and Balances by Jack Collom
[»»] Jim Feast: The Holy Grail: Charles Bukowski [etc.] by A.D. Winans °
"...Freud must select a schema from a foreign discipline, while Winans has to compose his (stealth) autobiography around not his own but another man's life."
[»»] John Hawke: In the Year of Our Lord Slaughter's Children, by Philip Hammial
[»»] David Kennedy — British Poetry Never Was; or, Some Observations of Andrew Duncan's 'The Failure of Conservatism in Modern British Poetry'
[»»] Kevin Killian: Fulcrum number three, with commentary on Landis Everson
[»»] No: Ben Lerner in conversation with Kent Johnson
[»»] Deborah Meadows: The Poetics of Drifting Devotions: The poetry of Reina María Rodríguez
[»»] Meredith Quartermain: Discrete Categories Forced into Coupling by Kathleen Fraser
[»»] Tad Richards: Calendars, by Annie Finch
[»»] Francis Raven: Dancing in Odessa, by Ilya Kaminsky
[»»] Peter Riley: W.S. Graham, New Collected Poems, edited by Matthew Francis:
"...It had by 1940 become a clearly identified position in poetry, increasingly seen as an extremist one, as the far left in a dichotomising politics of poetry which ran through the later 1940s, and it was so incessantly and viciously attacked in poetical journalism that by the 1950s it seemed to cave in under the pressure. But in the first years of the 1940s it was a flourishing concern and Graham leaped wholeheartedly into it with no holds barred... "
[»»] Shivaji Sengupta: After Taxes by Thomas Fink
[»»] Laura Sims: the false sun recordings by James Wagner
[»»] Eileen Tabios: four poetry books by Basil King
[»»] Michael Thornhill: Conversations: Walter Murch and the Art of Editing Film by Michael Ondaatje.
— 'What are you up to these days?'
— 'I'm doing Orson Welles's cut of Touch of Evil.'
— 'You're not doing anything, I hope, to the beginning of the film.'
— 'That's the first thing I'm changing.'
[»»] Tony Towle: The Escape, by Jo Ann Wasserman
Poems
[»»] Francisco Aragón: Three poems
[»»] Louis Armand: Port Lights Shadows & Particles
[»»] Iain Britton: Two poems: — Scenes of Stanley Spencer cooking; — Night-time activity
[»»] Liam Ferney: jurisprudence
[»»] Alec Finlay (and others): 'The Hidden Gardens' — Hyakuin renga
[»»] John Hennessy: New Corinthian — Letter to Paul
[»»] Kent Johnson: 'Even though he's known as a Language poet, I want to write like Norman Fischer'
[»»] Aaron McCollough: Two prose poems
[»»] Stephen Ratcliffe: poems from CLOUD / RIDGE
[»»] Michael Palmer: Dream of a Language that Speaks
E N D