Jacket 11 — April 2000 — Contents page
Joanne Kyger, Philip Whalen, Martin Johnston, rat-trap gift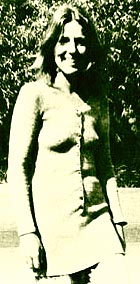 Joanne Kyger, photo by Bill Berkson, Angel Hair, 1970
Joanne Kyger Feature
edited by Linda Russo
Linda Russo: Introduction
Joanne Kyger — poem — "Man" from Man/Women
Kevin Killian — The "Carola Letters"
Charlie Vermont — "Form/id/able" and Joanne Kyger
Linda Russo — an interview with Joanne Kyger
Andrew Schelling on Joanne Kyger's Portable Poetics
Stephen Vincent — The Work of Joanne Kyger
Dale Smith — an interview with Joanne Kyger
Joanne Kyger — poem — "Phillip Whalen's Hat"
Dan Coffey — on Joanne Kyger's Phenomenological
Jonathan Skinner — The Travel Poems
Anne Waldman — Introduction to Joanne Kyger's Japan and India Journals
Joanne Kyger's "Letter to Nemi April 10 1962" from The Japan and India Journals —
"Peter Orlofsky locks himself in the bathroom all night and smokes opium
and then vomits all the next morning so we travel slowly."


Also see Joanne Kyger's Author Page at the Electronic Poetry Center at the State University of New York in Buffalo at http://epc.buffalo.edu/authors/kyger for a selection her poems, a bibliography, and a selection writing on her work including essays by Alice Notley and Ron Silliman.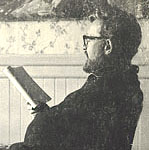 Philip Whalen, reading in front of a dado. Photo by Ernest Lowe.
Philip Whalen Feature
edited by Dale Smith
In Memoriam — poet — PHILIP WHALEN
(October 20, 1923 – June 26, 2002)

Introduction, by Dale Smith
Philip Whalen — About Writing and Meditation
Philip Whalen — Interviewed by David Meltzer
Anselm Berrigan — on Philip Whalen's Overtime
Bill Berkson — a note about Whalen and Mallarmé
Daniel Bouchard — An Hour with Philip Whalen
Paul Christensen — "To hunt for words under the stones"
Tom Devaney — reading the poetry of Philip Whalen
Norman Fischer — reviews Philip Whalen's Overtime
Lewis MacAdams — What do I love about Philip Whalen's poems?
Michael Rothenberg — a poem for Philip Whalen
Tensho David Schneider — "Looking things up with Philip Whalen"
Lew Welch — reviews Whalen's On Bear's Head, 1969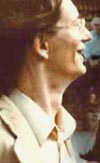 Martin Johnston
Martin Johnston Feature
edited by John Tranter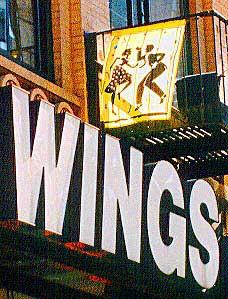 Special: Eliot Weinberger
Renga — ten linked prose pieces:
". . . Sitting in the last row of the plane next to a Belizean woman of uncertain age. The choice for lunch was pasta, fish, or chicken, but by the time the meal cart reached us, there was only pasta or fish. My seatmate smiled sweetly at the stewardess and said, 'Next time you'll have to kill more chickens'."
Poetry and Criticism
From the conference on "Poetry Criticism: What is it for?" in New York early in 2000,
Kristin Prevallet's report,
Michael Scharf's paper, and
Stephen Burt's paper. . . . more from the conference in Jacket # 12.
Interviews
Peter Riley talks to Keith Tuma
Maureen Owen talks to Marcella Durand
Reviews
Joe Amato reviews Cary Nelson's Anthology of Modern American Poetry
John Bennett reviews M.T.C.Cronin
Andrew Crozier reviews Tony Lopez: False Memory
Thomas Epstein reviews John High's The Desire Notebooks
Geraldine McKenzie Anne Carson's Autobiography of Red — "One is tempted to say this is not even good prose, let alone good poetry."
Mark Scroggins reviews Norman Finkelstein's Track
Conference Report
Brendan Lorber reports on the Issue Zero conference in New York City (March 10-12, 2000) — thirty little magazine editors and one hundred and fifty fans!

Poems
Ron Koertge: "Seven Brides for Seven Brothers", with special background story on Livy's The Rape of the Sabine Women

Michael Brennan / Marcella Durand / Kate Fagan / Allen Fisher
Martin Harrison / Cassie Lewis / Tony Lopez / Ian McBryde /
Geraldine McKenzie / Leith Morton / John Wilkinson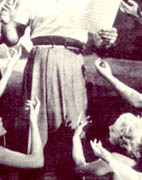 Great Moments in Literature # 11
Hilbert Trogue's "Pants Poem" a knockout!

Gift Idea

Has your new book received an unkind review? Send your favorite critic this "screaming rat" toy — a gift to remember!