Jacket 15 — December 2001 — Contents page
Kenneth Koch — Ian Hamilton Finlay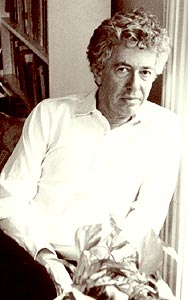 Photo: Kenneth Koch, NYC, 1989, by John Tranter
A Tribute to Kenneth Koch
Kenneth Koch died on July 6, 2002,
after a battle with leukaemia.
Kenneth Koch: A partial bibliography, by Steve Dickison



Editor's note: Knowing he was ill, I sent a printed copy of this issue of Jacket to Kenneth Koch in October 2001. He sent back a postcard full of enthusiasm and humor titled, like one of his poems, 'THANK YOU'. The picture side of the card carries a subtle irony: an 1890's photo of the crowds at Vichy, France, gathered on a sunny summer's day under a shady pavilion in the hope that the famous health-giving mineral springs would make them well again.
     You can view his card here.
     His thanks are properly due not to Jacket, but to the contributors above.
     Here's a bio note on Kenneth Koch.

— John Tranter

Interviews
Steven Clay of Granary Books interviewed by Olivier Brossard
Alice Notley interviewed by Brian Kim Stefans
Dale Smith interviewed by Kent Johnson
C.D.Wright interviewed by Kent Johnson — with Deborah Luster's remarkable photographs of inmates from Louisana prisons
C.D.Wright: excerpt from her poem sequence Deepstep Come Shining
Words to Comfort
A selection of poems and photographs from the benefit readings to support the World Trade Center Relief Fund on Wednesday October 17, 2001. Readers included musician Lou Reed, film-maker Ric Burns, actor Claire Danes, poets Sharon Olds and Cornelius Eady, novelist Rick Moody, Oscar Hijuelos and Richard Price, and sixty other readers who joined NYC Firefighter Anthony Castagna, NYPD Sergeant Edgar Rodriguez, Salomon Smith  Barney employees and NYC grade-school children in this reading at the New School, NYC.

Ian Hamilton Finlay
Feature: Ian Hamilton Finlay
Brian Kim Stefans on Ian Hamilton Finlay
Ian Hamilton Finlay interviewed by Nagy Rashwan
Drew Milne: 'Adorno's Hut' — Ian Hamilton Finlay's neoclassical rearmament programme
Mark Scroggins: The Piety of Terror: Ian Hamilton Finlay, the Modernist Fragment, and the Neo-classical Sublime
Reviews:

Articles:
Keston Sutherland: The Trade in Bathos
Craig Dworkin and Michel Delville: Conference, May 18-20, 2000, Universidad de Salamanca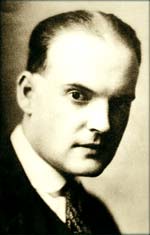 Edmund Wilson
But [Edmund] Wilson was quite aware that 'things' in themselves are not enough. Professor Edel quotes from Wilson's Princeton lecture: '...no matter how thoroughly and searchingly we may have scrutinised works of literature from the historical and biographical point of view... we must be able to tell the good from the bad, the first-rate from the second-rate. We shall not otherwise write literary criticism at all.'
— Gore Vidal, 'Edmund Wilson: This Critic and This Gin and These Shoes'
in The New York Review of Books, 25 September 1980
The Cambridge Conference of Contemporary Poetry
This notice is now out of date, but will remain here for archival reason.
... is a weekend of poetry readings, performances, discussion and other events. Emphasis is on modernist developments in contemporary poetry.
Conference 2002: 26—28 April 2002, at Trinity College, Cambridge, UK.
Prices:£30 for the entire weekend (£20 concession), and £4 per session (£2 concession). Free to undergraduates. Attendees will include Ferdinand Schmatz (Austria), Cecilia Vicuna (Chile), Ciaran Carson (Ireland), E A Markham (UK), Susan Schultz (US) — see web site below.
David Gascoyne Symposium: Friday, 26 April 2002, Winstanley Lecture Hall, Trinity College, Cambridge 10 am—4.30 pm. A one day symposium on the life and work of David Gascoyne. Papers, a dramatised reading of his early work, Procession to the Private Sector, and rare archive film screenings.
You can see a full listing of invitees and a timetable at the CCCP Internet site at http://www.cccp-online.org/.
Call for Papers — James Schuyler: A Celebration
This notice is now out of date, but will remain here for archival reason.
The Centre for Modern Poetry will host a symposium on the work of James Schuyler on 1 June 2002 at the University of Kent at Canterbury, England. Submission of papers concerning any aspect of the work of James Schuyler is invited. As well as papers which treat Schuyler in the context of the New York School, the organisers are also interested in work which situates his writing in other contexts. Please send an abstract of 300 words to The Centre for Modern Poetry, School of English, University of Kent at Canterbury, Canterbury, Kent CT2 7SE, England. If you wish to be included in future mailings, or have any other queries, please write to the above address or e-mail: modernpoetry@ukc.ac.uk