Jacket 2 — January 1998 — Contents page
John Ashbery feature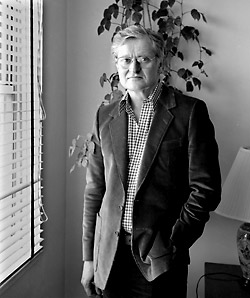 Photo of John Ashbery wearing a jacket: by John Tranter (R77-8)
Bob Perelman's The Marginalization of Poetry
"The notable shifting between designations of period, movement, location and practice... again indicates Perelman's desire to forestall or only partially engage the deictic complexities of classification and orientation by invoking both paratactic equivalence and the hypotactic narrative force of historical sequence."
— Kate Lilley
… discussed by:
Steve Evans
Ann Lauterbach
Kate Lilley
Ron Silliman
Juliana Spahr
...with a counter-response by
Bob Perelman
Poems:
Robert Adamson: The Flow Through: for the Johns
Lee Ann Brown: two poems
Tim Davis: Smart Poets Society
Denis Gallagher: A Cushion
Forrest Gander: Knife on a Plate
Michael Heller: two pieces
Lisa Jarnot: five prose pieces
S.K.Kelen: Fission
John Kinsella: Honest, Theocritus!
August Kleinzahler: Napping After Lunch
David Lehman: The Shield of a Greeting   
Jennifer Moxley: Æolian Harp
Eileen Myles: Milk
Peter Riley: three poems
Prose:
Kent Johnson / Akitoshi Nagahata letters: The Yasusada Affair — Hoax, deception, or work of art?
David Lehman: The Ern Malley Poetry Hoax (moved to Jacket 17)
Tony Lopez: Postmodern Poetry Conference, 30-31 March 1998, Plymouth UK
John Tranter: Lost Things in the Garden of Type
Eliot Weinberger: James Laughlin (1914–1997)
Eliot Weinberger: Letter from New York: Vomit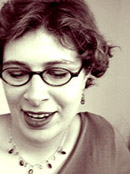 India Amos



Thank-you notice: The first twelve issues of Jacket were coded by me, the editor, John Tranter, using clumsy old HTML. Some kind Code Samaritans have offered their assistance free of charge to re-code the magazine in XHTML, the current standard for coding Web pages. Jacket 2 was re-coded by India Amos. Many thanks!

Since July 1999, India Amos (photo, left) has been webmaster of http://www.poets.org, the website of The Academy of American Poets. For the preceding three years she worked at the Academy as a Program Associate, administering four major poetry awards and the University and College Poetry Prizes; managing content for www.poets.org; and designing American Poet, the Academy's quarterly journal. She also works as a copyeditor, book designer, and e-book developer.