A: The celebration of everyday American speech in the manner of his mentor, Dr. William Carlos Williams. Born 76 years ago in Portland, grew up in The Dalles on the Columbia River, fought in the 2nd  World War, went to Reed College where he roomed with Gary Snyder and Lew Welch, moved to San Francisco, became through singular study a great and beloved Roshi, subsisting on crackers and beauty, publishing many funny, quirky, grouchy, small-press books, frequently in his own calligraphic hand; viz. Like I Say, and Memoirs of an Interglacial Age. He is currently the head priest at the Hartford Street Zen Center.

What else? The shyest - secretly bravest - freest, most all-inclusive poetry intelligence in America, capable of creating atmosphere of nuanced magic and delight. Sitting at a kitchen table at a window open to all input, jotting it all down as journals, Whalen's poems record a mind moving measure through time, a "continuous brain movie" crossing a page, creating a world work, deeply literate in the manner of one who would rather read books than pay rent, work days, do politics, have dough, or any other status whatsoever in this so-called world.

Slow, fat, cheerful, and nearly blind, Philip's work is filled with lupine flowers, lightning strikes, and "consider new plum blossoms behind the zendo," Blake's books as well, Brahms, and the Pure Land Amithaba Buddhas. The recalcitrant, mysterious female, subject of endless lover's woes and odes - "Where I walk is with her/In fire between the ocean waves" - is YOU. And when he finished writing, he stopped.

Philip Whalen is the master of juxtaposed particulars, particularly the overheard or easily misunderstood ("Money Is The Roost Of All Eagles"). He celebrates friendship, minutiae, observation of pleasure, poetry that "makes nothing happen," yet brings the street alive with translucent agates, jasper-flecked carnelians, black dragon flies, and bracken ferns. Nature yawns up through the sidewalk cracks to snap your neck in the work of this exemplary poet and shy, modest man who once wrote "I opened a drawer and saw by chance a page of writing which I'd put away a long time ago and forgotten. I closed the drawer, I hopped and gloated and laughed, triumphing, completely maniacal, demoniac. No one will ever guess why."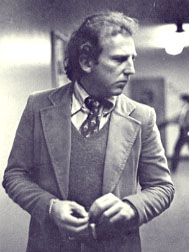 Lewis MacAdams is a poet, journalist and political activist who lives in Los Angeles, California. His book Birth of the Cool will be available from Simon & Schuster Press late this year.
You can read Dale Smith's review of Lewis MacAdams's book The River: Books One and Two in Jacket # 7.
Photo of Lewis Macadam, from the back cover of his book News From Niman Farm, Tombouctou, 1976 - copyright © Tranchina 1976, 1999; all rights reserved.