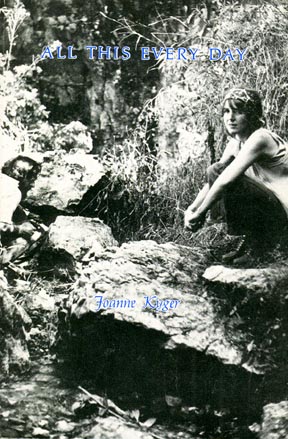 Joanne first arrives in San Francisco in the mid-fifties, then considered (I understand) stunning, a fashion model with a theatrical sense of presence, initially shy as an apprentice, a bridge figure, a bride of sorts among them - she who will take ("marry") urban smarts with mythic intrigue and re-negotiate a stand on, within and among this Pacific space. One (with her poet partners) that will separate from the diasporic colonizing Euro/Yankee western agenda.

Were there others - that is women who precede Joanne in this space, or what defines it? There were certain California women at the turn of the Century, particularly after the 1906 San Francisco earthquake who arose within and around the Northern California versions of the Arts and Crafts movement. Among them Isadora Duncan, Annie Brigman, Juanita Miller, and Julia Morgan, who emerged in Berkeley and Oakland and framed their personae as creatures of Pan - without the wit or irony of Joanne, but certainly similar in her love, her reverence for and compliance with the shapes, spirits and movements of what is natural, what is sublime.

Isadora strove to have her body move as if it were shaped by the winds through the California pines; Juanita Miller (daughter of Joaquin Miller, the poet), starring in a film in Virginia City, refused to come down from the top of a tree at noon until she experienced (she told them) full intercourse with the sun; Annie Brigman, pictorialist and photographer making images of men and women in Greek attire in natural settings; architect Julia Morgan designing U.C. Berkeley's Greek theater and Hearst Castle, among many other Arcadian influenced shapes. This was a whole new (non-paranoid, non-Christian, non-materialist) pantheist way of looking at life on the western frontier, a view which must also include Theosophy - Madame Blavatsky, and, later, Robert Duncan's interest in H.D. and Jung - particularly the presence and interface, the unveiling ritual offered in one's dreams and seances, as in Spicer's practice of the Tarot and his fascination with the template of the quest in The Faerie Queen.

In Joanne Kyger, all these elements shape a poetry that's distinguished by a distinctive line, a sense of pitch and a content whose implicit form seduces eye and ear into a robust, most often illuminated, ecstatic space: a place in which beings (formerly flat, merely nominal) emerge, take shape to either perform fertile actions or inflict demonic damage. What makes these poems contemporary, rather than histrionic: they are nervous, publicly anxious, not always sure, and yet committed in a way that proposes a generosity of humor and spirit, a mischievousness (if not an outright love of the pleasures of foolishness); and a constant surprise, in a voice that is right at home with echoes of Frank O'Hara and Ted Berrigan. Simultaneously, the work possesses an unflinching sense of appropriate behavior backed by a spit-fire awareness of counter-ecstatic, bad company. Though not self-righteous; when deserved, inputting the pathos of her occasional own "awful self."
July 20

                     You left
    your heart behind, over there, back there
Sleepy slow Buddha, you catch up to me, ok?
                     Well I'm doing it now, yes this
                     is the time I'm in, just this time
                             to lighten it up
                  staying home.

                                    Part II

                                    Snorr
                                      Raw nervous consciousness
                     All right, Joanne, get a firm
                                 grip on yourself - it's not so bad
            Inside while the world cavorts happily
            in the sunshine of yet another amazing
            Bolinas day...
                        But I can do it, I can
                                       falling forward
                        into one foot after another
            Day dreams and fancies
                                                Creamy Female

        from The Wonderful Focus of You (1979)
In making praise of a poet or poem's intention, it's probably all too common to confuse praise for intention with actual accomplishment. To create a theater set without presenting the play. What happens to shift her work away from a monotonous attention to formal desire and/or a readership that expects the same? Kyger's work (clearly various in its directions) delivers a formality constantly disrupted by a variety of scrims that move/slide into and off stage. The incomplete sentence that splices then unsplices from the overlap of one scrim and then another. Occasionally there is a view singular and apparently whole that is just as quickly broken with an uncanny will to re-impart a shifting, syntactical weave. The interface of dream, inherited myth, and immediate natural facts and folks within the community provide a source of attention, continual challenge and play. Language is the activity of a totally open consciousness; its form and delight usher in from the play of close focus; perhaps Keatsian, the negative capability of attention, keeps turning the tables - the unveiling - providing the poem as a "rush," a surprise, indeed an alchemy. Yet, within this rolling and unrolling fusion, there remains a presence, someone called Joanne who calls attention to a moral dilemma (something out of whack) which requires attention.  Even when things get very wacky - Pan displaced by "panic" - there remains a fiber in the language, a sense of the correct; her "darkened shores" will provoke a counter-active grace (preferably golden), a joy in which voice and space, that Orphic duo, are one.