This piece is about 2 printed pages long.
It is copyright © Gig Ryan and Jacket magazine 2010. See our [»»] Copyright notice.
The Internet address of this page is http://jacketmagazine.com/40/ryan-gig-2.shtml
Gig Ryan
Two poems:
Western Isles / That laments


Western Isles

Stretched like a tarpaulin, courting moments
hooded Unabombers fold clothes in the laundromat
as their nacreous fleeces twirl
and twilight tumbles over date-less posters:
charities and cars,
last year's parish fête's handwritten yearning
Air force manoeuvres have shorn the TV
from its porridge of comfort's renaissance colours
Measly rain tars straight roads that thither
as real estate cools to your bank statements

Gibbering at the floral table's hems
poisons join you to the world
Scottish hornpipes play at the funeral of happiness
through books of ticking time
Another loss files into the ground
that art laments


That laments

You want to live as far away as possible
from those diamond casts and footnotes
that used to have the confidence of ten

welcoming strangers
Now, she never wants to crush
steam rising from her feet like a future

You pass the tomb of the Unknown Poet
remorseless and dedicated
scared that words might fall out on the drive

waiting for some witticism to chap the cups
Now he makes a puppet of himself
who loved it as an artist

and, as a parent, was taxed to very height
Papers nap over the watching clips,
dandling as career,
they go home to the aether in a lake.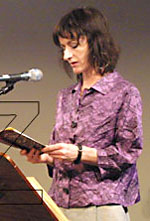 Gig Elizabeth Ryan has songs with her current band DRIVING PAST: Real Estate, CD Chapter Music/Corduroy, 1999. She is Poetry Editor of the Age, Melbourne, Australia, and a freelance book reviewer. Her New and Selected Poems will appear in 2011 from Giramondo (Australia) and Bloodaxe (UK).
Copyright Notice:

Please respect the fact that all material in Jacket magazine is copyright © Jacket magazine and the individual authors and copyright owners 1997–2010; it is made available here without charge for personal use only, and it may not be stored, displayed, published, reproduced, or used for any other purpose.