Gig Ryan
Two poems


Cracked Avenues

Ismene

You live in the cracked avenues
arguing and warming a kitchen's generations
Last year wept but now the harrowed road

Moths eat the library, huffing past
The best went flickering through folding birch and sycamore
Last year was but now the bladed veil

Once sunset chipped in your hair, farewelling the universe's inhabitants
Now clouds stop in your frozen cemetery
your wine-dark car turning in the drive
Advertisement flags serrate the 7-Eleven's pediment,
                                                            the streetlights set like spoons
Graves dust the hill and the ruptured gums
that whistle your instructions

_______

You take the opal moon for granted
the marching cypress, sunset's bolt
the street's green strip neon selling food
at every calamitous funeral red car lights map like lava
Gold kalashnikov's meted sorrow, an orb, a card

_______

New Year's Day shines on next door's brick wall and chimney
as photos turn the marvellous gardens' First Communion
writing your doctorate on the pillow
whose chains and sigh have passed
I pull the hearth rug's Martha and Mary into my caul

A golden hypocrite reassembles in the Arch of Federation
You, who were always with me, remember how bright the stars
above the ti-tree and eucalypt

We sat out in the fallen landscape, severed from what was
colouring the yard as it had been
She says you're running now in the gold paddocks of your youth
who never reached her age
We lay the falcon china
Above, the hilted Southern Cross


Antigone

They take away from me what they inspire
He went to what he was
For so long I represent you, a cachet
of just and true, that bones walk instead
and have to rebuild brick by brick
glorious atlas and swab, the stars, the shark sea satin'd
to become what you satirise
back to the circus and caravan
Weepy avenger coarse ground doesn't touch
— clang of sword on mattress —
I hold your fake hand to my brow
to feel love turn on and off like a programme
illustrating a cliché

_______

Blogs fugue into themselves,
stripping time across the shuttling lists
as music plaques over a sacked diary
and the egghead blurb's mountain of claims
and heroic tasks depicted on your shield
You know it like a bath of dirty water
How did you get stuck in that tide of boasts
and souvenirs, his royal eyes light
on the past's porphyried gas
having chucked the dolls of irony
in childhood's plastic bushes and lain path
who slab the air, obstinately
Illness drags you to the talkshows of resolve and parried death
a maypole streamers reach to, a cabinet of poison
that twins each other in dispensation for the chute

You breach the galleries' biblical catalogue and pyramid of sand
A tinker of song fulfils the relationship you meant to cut
trimmed and cobbled, sworn in on a whim
Rain snaps into place for myself but you, unmourned
who prepared bitterly
Thumbing a mobile, I turn from the choir


Kangaroo and Emu

1.

He surveys the tilled electorate, covets
his faded abacus of watched commentators
hauled jockeys who don't know what's missed
The record leader gnaws his record to the core
family smote around him in a lei
"We stick with what we know"
says the marginalled, marshalling her TV bytes
a bodyguard of season's values and the stressed deputy
tiddlywink attentively


2.

"Excitement for the first time in yonks" a struck gallery keys
as the new leader estimates the stage
His kids circuit the maths chairs
An ex sighs

Aspirations whine like a semaphore
when popularity slated its
gift selves from the Tree of...

"We have signed niiine memoranda" the minister umpteenths out
ramping up his slush fund's rumpled horn

or promise to change Tuesday to Monday
pulling a lizard from a hat
a ring of certainty buttered on his finger
raffling through a sulk, a ute
a nodule sheared off by his mates


3.

Swaggering misanthrope marooned in a nib
you go through the liege bracelet
and plethora friends living in their own coinages and scam

            "We decide who comes into this country"
            by algorithm or parachute
            "and the circumstances in which they come"

with always the assumption that anywhere is better
crimson paddock and peppercorn or clattered heath he can't beguile
a punter of woe riding out of luck.


________________
* The last quote is from Australian Prime Minister John Howard, 2001.

A kangaroo and an emu support the Australian Government's coat of arms.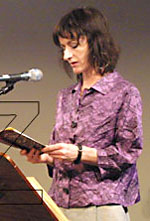 Gig Ryan, Berlin
photo by Gezett.de
Gig Ryan has songs with her current band DRIVING PAST: Real Estate, CD Chapter Music/Corduroy, 1999. She is Poetry Editor of the Age, Melbourne, Australia, and a freelance book reviewer.