Barbara Guest's author notes page here on the Jacket site offers a biographical note, and also links to a dozen or so Jacket pages that feature her work or reviews of her books, or where she is interviewed.
John Tranter
The Twilight Guest
First, she purchased
a little cottage by the lake -
fresh-water, not salt -
and sat waiting for poetry.
No one but the sunlight came wandering
down the lane. The atmosphere
was okay, but there were too many emotions

to properly fish with
if you have a concern
for catching verse. She preferred
the outdoors to living inside a
box, she decided. On the porch, deboning
a little poem she'd caught, thinking through
her life from the bothered surface
down, she found surcease

from care in looking at the trees
doing nothing, waving slightly, and
the nodding roses that grew two by two
by the porch. Further off were
lakeside flowers, lacustrine
lilies you'd call them, and water lapping.
Something glittered in the grass beyond the
gate. She found it was a carnelian tie-pin,

lost on some long-ago evening
by some long-gone gentleman, its
setting tarnished, the surface of the
carnelian clouded. Taking a turn
at twilight around the shore of the lake
she found she'd grown older, and turning to
a sound on the surface of the water

she noticed the image of the moon tossed
on the ripples, backward and forward,
seeming to be made up of flake on flake
of phosphorescent light. There, the
poem - its back browned,
its belly silver, tossed and shied in
to shore and - there - it was caught.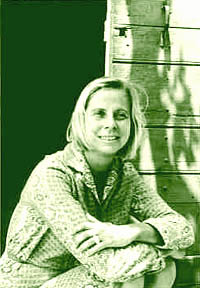 Photo: Barbara Guest, Sermoneta, Italy, 1968, photographer unknown.
This poem uses the end-words
of Barbara Guest's poem "Twilight Polka-Dots"