The Fourth Fastest

(For Michael White)
We wondered could it survive off the Pod,
ran time tests with our new scanners
and sat baffled to the color wheel
till a fuzzy thorax descended
and grooves made speed:
my Le Tigre shirts
pressed, chilling
in wait.

With this
arrangement
negligent Earl
skips six front steps
to arm stretched Mom
the Rotary Club Stable reunited
with Chocolate, its prize two year old,
fireworks blossoming at the external ledge.


        Some Failed 18th Century Jacket Blurbs

It would be a poem presentable even in the highest company were its out-buildings painted, and the blight of its mineshafts roped off or over-planted.

The modern encyclopedias divide human knowledge among memory, reason and imagination, awarding this last province to poetry. Rare prize!, one I contemplated throughout my short and airy sojourn with the current author, to the effect that landing very much at my desk a few seconds later, I could neither tease out with reason nor recollect how the encyclopedists arrived at such a prudent division.

Though I believe I have severed an optical nerve straining after their obscure allegories, the wood-block prints in this text save one from a monotony more or less continuous with the progress of the type.

When I oversaw the Physicians drain three quarts of liquid from Samuel Johnson's testicle, I felt certain to have seen the last of this troubling fluid.


        Some Critical Exercises

Consider carefully the men busy reviving a woman collapsed by a fire they've built beneath a rock, then pronounce this one of the best composed scenes of the salon.

Reprimand if you must, but save a choice morsel for the Baron and his slumped, work-suited helpers.

Tap your cane sharply against the polished marble.

Purse your lips while uttering the letter O, leaving your mouth open an awkwardly long time, then recline into the bean-bag chair.

Smirk at his malapropism, but mind your own words with a heightened vigilance.

Pass the hookah and recite a naval yarn.

The Spaniard is on horseback, he occupies most of the canvas.

Poor little one, how intense, how thoughtful is your pain!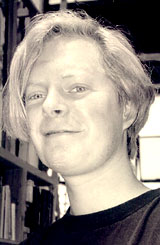 Lytle Shaw has published four poetry chapbooks, two in collaboration with the artist Emilie Clark, with whom he edits Shark, a journal of poetics and art writing. He grew up in Ithaca, New York; after studying architecture and literature at Cornell, he attended U.C.Berkeley, where he is completing a dissertation on Frank O'Hara.
      His essays and poems have appeared in numerous journals including The Chicago Review, Poetics Journal, Qui Parle, and Arshile. He currently lives in New York City.
      You can read Lytle Shaw's article "On Coterie: Frank O'Hara" in this issue of Jacket.