Wendy Mulford
The Architecture Of Dream
The Blue Stairs, by Barbara Guest, Corinth, 1968
Barbara Guest's author notes page here on the Jacket site offers a biographical note, and also links to a dozen or so Jacket pages that feature her work or reviews of her books, or where she is interviewed.

All those years ago when I first encountered The Blue Stairs through was it J.H.Prynne? in Cambridge when we were all young, the 'Cambridge, [England that is], poets' in the late 60s, I was swept away with the beauty of Helen Frankenthaler's superb blue shape /blue lines cover & then with the dreamlike spaceyness of Barbara Guest's lines & the fine-drawn precise images of her colonial, globe-curving eye:
Now to be a proper historian
of my dreams
I must relate
the sidereal action

Of a ship seen from
A Hotel Hilton balcony
Think of that
Balcon Hilton!

Enough of this dizziness
let us apply the oars

Not to freeze
in a mosaic
not to be fooled
by a Mosque

What an idea!


            ['Turkey Villas']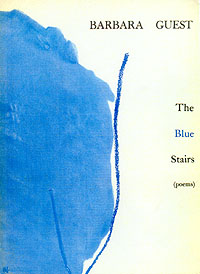 My notes acknowledge few titles, make an unreliable guide to any following; though out of true appreciation abridge my passion and absorption in The Blue Stairs.

As I look through my jottings, on re-reading the collection around thirty years or more later, I find: "dreaming opulent clarity acrobatic dissolution the range of geography/ culture/ history in allusion, circumnavigating the globe, insouciance of the accurate eye's measurement, corrected sternly, swiftly, 'enough of this dizziness', words shaped, phrasing to lodge in my gut, assorted pots rattle, beautiful simplicity" -


I shall be medieval and slim
at once!

Blue canopy
unmodernised
& empty


            ['Turkey Villas']


Windows, Melissa, they contain what is best
of us . .


            ['Fan Poems']
It's impossible to desist from quoting.

And I write: "I read them again and again, some it seems to me I know by heart, as if they have accompanied me since childhood", & I no longer know whose are the words, hers or mine, & my dreams become curved, spacey, filled with enigmatic, beautiful dark-eyed young men  who lean against tall columns in sudden nightfall . . .

Some lines are impenetrable,  but in general there's not here the closed weave of later Guest-works, though that is on its way in the last poem in the book, 'A Handbook Of Surfing', but held at bay, one might say, by the rolling onward movement, sea, surfer, board.

There are landscapes both exotic and glancingly sinister scrolled through that yet yield far from a flâneur tasting, for a distinct moral register is at work, informing this gaze. Hints below the surface luxuriousness  the sinister colonial hours, brushes of cruelty & corruption:


You whisper it is so silent
under the mosquito net
remembering the prisons from which you sprang
        the machinery of coral walls
        your bamboo crest
the stockade that encircles you.

            ['Colonial Hours']
When I think I can no longer distinguish the words of the page from the words elicited, I know the range of her unsentimental imagination, the staining recked of the imperialisms of her wide voyaging,  the account kept. Barbara Guest's eye is sterner and more just in its discrimination than a provincial's, made partial in its local breeding and attachment, could be.


There we go in cars, did you guess we wore sandals?
Carrying the till, memorizing its numbers,
apt at the essential such as rearranging
languages. They occur from route to route
like savages who wear shells.

The old manse and robins.One tear,
a salty one knowing we have escaped
the charm of being native

            ['A Way Of Being']
Barbara Guest's is clear-eyed knowledge of what underpins travel's vicarious riches, such encounters with the exotic Other,  ' "I cannot place him." Yet I do.' [ibid]
and


                Magnified world
                      my education
                      my craft

My fruit my oranges

            ['Colonial Hours']
At the same time, this is a painter's book, restoring light and edge to the page: 'most vertical/ the room dedicates its curves to you' - except that her spacings are delicate, exact, like the print of a unicorn's hoof from the old tapestry.

The music of the half-line, reading down, (the poem is 'Saving Tallow', which starts with the dense imagery of the 'Visible tallow of the hurricane night/ thin fair candle/ a yacht cradling/ the room's deep water' - then modulates - a typesetter's, editor's nightmare in the long-ago pre-electronic computer setting days, modulates like music, like the lovers' themes in Berlioz' Romeo & Juliet: the left-aligned voice - [italicised here for contrast] - the perfect rhythms & linkings of those floating half lines responding 'where the wave/its sail/of shoulders/on yellow knees' et cetera. And all ends aptly, cogently? -
Puff:
                                  where the wave
raises
                                  its sail
a procession
                                  of shoulders
the falling olives
                                  on yellow knees
and cities
                                  drowned
in their comet clothing
                                  dragged from the sea

                                  Candle!
lone palm tree  lonely diver
covered with sea lice
                                  most vertical
the room dedicates its curves to you.


'Return Of The Muses' is another of those poems you feel you can only savour, read a few lines, almost sneakily, then put it aside, your hands behind your head, dug into your armchair & freewheel thro' the spaces:
'The room now fills with feathers
the birds you have released, Muses,

I want to stop whatever I am doing
and listen to their marvellous hello
The Blue Stairs is a collection full of poems that make you want to do just that, to do homage then dive into your own notebook. Further, you will find extraordinary architecture and stopped-encounters like an old film that judders to a halt on the third reel, encounters that have penetrated your own dreams. Soon your writing is stained with the exotic longing of her lines -
                Well wild wild whatever
in wild more silent blue

                the vase grips the stems
petals fall       the chrysanthemum darkens

                Sometimes this mustard feeling
clutches me also.

            ['A Reason']
I am made aware how present is the civilisation, the privilege of Barbara Guests's culture and her strata, and, yes, its wealth,  in this exquisitely balanced, fully-knowing, fully-realising imagining. And that's a shaft sunk to truth. The simplicity of a human knowledge that does not shy away from the real bases of existence nor duck disparity.

Sometimes a balm of event, of narrative fragment, steals upon the reader -
. . . Then I must guide us
to the wood garage someone has whitened
where the light enters through one window
like a novel

            ['A Way Of Being']
and we are seduced by the quiet authority of this tone, & follow it, '. . . as far from the twilight ring/ the slow sunset, the quick dark'.

There is presence, voice, human sympathy in this poetry; there is also quiet philosophy, mesmerising imagery, and the steady, clear light, painter's light, quattrocento or New York abstract expressionists, which reaches us through the clarity and weight of the syllable and the line, its measured pace:
The light is not idle, it is full of rapid
changes we can call voyages
if we like, moving from room to room.

How representative of us this thoughtful
weather that has travelled the water
to reach us, the touch of a certain side
of the skin when we open the window.

            ['Direction']
The Blue Stairs builds up at its end to three great sequences: 'Fan Poems', 'Four Moroccan Studies', 'A Handbook Of Surfing', where Barbara Guest's linguistic juxtapositions build more certainly towards the voice she would become known for in Moscow Mansions [1973] Seeking Air [1977] & on, plangent sky-trails ever more European than Atlantic -
Classically perchance am I your robin
or rossignol, not hirondelle, that dark
word ending in dress?

            ['Fan Poems']
What more might a reader ask?

The book is beautifully presented/typeset, all 48 pages of it. Jan Wilentz designed it, and the Profile Press of NY printed it. The poems' previous appearances bespeak the cosmopolitan artistic world of their provenance: The Paris Review, Art & Literature, City Lights Journal, Art In America, Poetry Magazine . . .


Wendy Mulford , 9 January, 2000
Benhall, Suffolk, England


List of poems cited:

The Blue Stairs
Turkey Villas
Walking Buddha
Colonial Hours
Saving Tallow
The Return of the Muses
A Reason
Direction
Barrels
East of Omsk Parade's End
Clouds Near the Windmill
Fan Poems
A Way of Being
Four Moroccan Studies
20
A Handbook of Surfing

Wendy Mulford is the author of over a dozen collections of poetry, a biographical study of Sylvia Townsend Warner and Valentine Ackland, a book of saints and, as editor, the Virago Book Of Love Poetry. She also made a study of Russian avant-garde women artists of the revolutionary period. A former lecturer at the universities of Greenwich, Anglia, and Cambridge, she now lives in Suffolk and is a visiting research fellow in Cambridge.
      Her most recent poetry collection is A Handful Of Morning: Poems 1993-7. etruscan books are due to bring out a selected poems in 2000/1.
      Work by Wendy Mulford also features in the recent anthologies Other: British and Irish Poetry since 1970 (1999), and Out of Everywhere: linguistically innovative poetry by women (North America and the U.K.), (1996), to which she contributed the Afterword.
      She founded the poetry press Street Editions in Cambridge in 1972, which published books by J.H.Prynne, Andrew Crozier, Douglas Oliver, Alice Notley, Veronica Forrest-Thomson, Tom Raworth, and Denise Riley. Street Editions merged in 1993 with Ken Edwards' imprint Reality Studios to form Reality Street Editions.