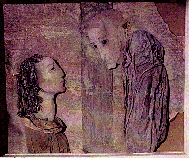 Untitled assemblage by Mina Loy, private collection, Aspen

 
This temperamental stance has made the reconstruction of her life all the more challenging in that biographical narrative relies more on chronology than "assemblage" -- a principle in some ways better suited to Mina Loy, if not the reader. But if biography eschews the strategies of modernist juxtaposition (even though, like this one, it works with fragments), it may nonetheless acknowledge its subject's love of the world's, and the self's, variety. I have come to feel that Mina lived her trajectory, her spiritual zigzags, in full awareness of her contradictions, and that she cherished them all as facets of her "genius."
      This book relies on Mina Loy's "subconscious archives," the trove of her lightly veiled fiction and autobiography constituting her memoirs. I have approached this rich storehouse with empathy and with caution, aware that the woman who wrote to make sense of her life also did so to justify herself. Moreover, I have become acutely aware of the biographer's tendency to identify with the subject, to whom she is drawn by some mysterious affinity. (Resurrecting another's life may become a calling, as the current owner of Mina's Florence house observed.) Because Mina's memoirs include everything from after-the-fact noting of dialogue to settling of accounts, I have sifted through them with a set of variable meshes, seeking consistency, plausibility, and externally verifiable information. This process came to resemble the psychic activity she called "silting the appraisable" -- letting the weightier elements sift through the mesh of interpretation as the rest volatilizes.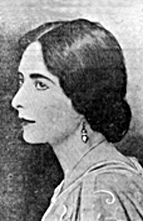 Mina Loy interviewed as the "New Woman,"
New York, 1917


If Mina had completed the autobiography she drafted for decades, she might have chosen to call it Being Geniuses Together, the ironic title her friend Robert McAlmon gave his account of their group's adventures. But she kept rewriting her life from different angles. In the end, all of them nourished, troubled, and informed my version -- which I have called, with a similar sense of irony, Becoming Modern. For just as Baedeker offered Victorian travelers guidance, so Mina Loy provides us with a Baedeker of modernism -- a guide to the imaginative landscapes created and inhabited by this quirky new woman.
 


LINK: Interview with Carolyn Burke
 
LINK: Excerpts from Reviews of Becoming Modern
---
Ordering Information: Becoming Modern: The Life of Mina Loy, by Carolyn Burke, ISBN 0-374-10964-8 Hardback, Farrar Straus and Giroux,  US$35
Published in Canada by Harper Collins, Canada Ltd. CAN$49
ISBN 0-520-21089-1 paperback, University of California Press US$18.95.
Available at local bookstores throughout the United States and Canada. Bookstores may order through Ingram or Baker & Taylor, and individuals may use these direct links to order via the Internet:
      directly from the publisher, the University of California Press
      in the USA from Amazon books
      in the UK from The Internet Bookshop
      in France from the Village Voice Bookshop in Paris
      and in Australia from Gleebooks in Sydney or Readings in Melbourne
 
Copyright © Carolyn Burke and Jacket magazine 1998
 
The URL address of this page is
http://jacketmagazine.com/05/mina-intro.html