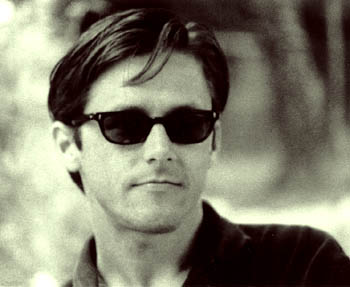 This review is taken from Notes to Poetry number 40, by Steve Evans (left), an American writer currently living in Paris. The Notes to Poetry series is an irregular series of reviews written by Steve Evans and circulated among his friends as they accumulate. The numbers in the heading refer not to consecutive issues but to the week in 1998 when the works were read and commented on. Installments exist in the following discrete series 1, 2, 3, 5, 12, 14, 15, 17, 18, 22, 25, and 34. A collectively authored mid-year installment (26) also contains a table of contents for weeks 1-26.
 
For those who might wish to be added to the mailing list for the Notes to Poetry series, Steve Evans can be emailed at Moxley_Evans@compuserve.com
 
An earlier notice of Works & Days, by Ben Friedlander, can be found in Note 26c of the Notes to Poetry series. Emmanuel Hocquard's contribution to Action poetique 151 (Summer 1998) - which includes Viviane's selection of 10 sonnets from the Un Test de Solitude - was briefly mentioned in Note 25.
 
Contact and ordering information:
The Figures / Hard Press, PO Box 184, West Stockbridge, MA 01266
    (Hard Press with its stablemate lingo magazine are on the Internet
    at http://hardpress.com/)
Format Américain, c/o Juliette Valery
      37 rue Sainte-Colombe, 33000 Bordeaux, France
P.O.L., 33, rue Saint-Andre-des-Arts, 75006, Paris
Small Press Distribution 1-510-524-1668 or 1-800-869-7553 (USA)
Bridge Street Books (Rod Smith) 1-202-965-5200 (USA) AERIALEDGE@aol.com
 
Emmanuel Hocquard : links
Founded by Emmanuel Hocquard in 1989, the non-profit association Un bureau sur l'Atlantique continues to advance the knowledge of American contemporary poetry in France, by: inviting to France American poets and regular programming of events : collective translation seminars, readings, meetings; and publishing translations : anthologies, Un bureau sur l'Atlantique series of books, Format Américain + Le «Gam» series.
      Un bureau sur l'Atlantique is supported by the Centre National du Livre and the Centre de Poésie & Traduction at Fondation Royaumont. You can connect directly with the Bureau via the EPC site in Buffalo, New York. The site is bilingual in French and in English.
 
Bill Luoma : links
http://socrates.berkeley.edu/~moriarty/2/luoma.htm which is Laura Moriarty's Internet magazine non, and
http://www.ubu.com/contemp_frames.html> (Kenny G's ubu site) and
http://www.idiompress.com/issue_1/contentspage.html, which is idiom magazine, and contains a review of Western Love by Adam Degraff.
 
Basil Bernstein's "Language and Socialization" was first given as a talk at the Institute of Contemporary Arts in London, as part of their 1969/70 series on linguistics; like the other talks from that series, it appeared in the 1971 volume Linguistics at Large, ed. Noel Minnis.
 
Citations from Hesiod are in Hugh G. Evelyn-White's translation for the Loeb Classical Library (Cambridge and London: Harvard UP, 1936): "And look after the dog with jagged teeth; do not grudge him food, or some time the Day-sleeper may take your stuff."